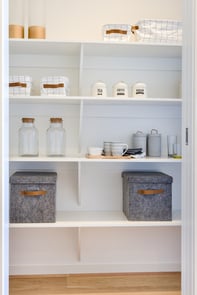 Just about every retail enterprise uses retail shelving as a major part of its merchandising scheme, and there are all kinds of options when it comes to shelving design, construction materials, size, colors, cost, configurations, etc. The majority of retail shelving currently in use is of some type of metal construction. These are generally affordable, strong, easy to install and keep clean, and easily adjustable to accommodate different types and sizes of merchandise. They can also be configured in almost endless arrays.
Another real plus when it comes to metal retail shelving, especially gondola shelves, is that they can feature slat wall or pegboard backing. This allows you to add any number of accessories to aid in displaying a wide range of products. Accessories can include hooks, hangers, trays, bins, baskets and more. Metal shelves can also be constructed of a range of metals to suit your particular store look. Heavy steel shelves might be appropriate for use in a retail car parts store or hardware and tool rental shop, while lighter-gauge chrome shelves would be more at home in a high-end apparel store.
Wood Shelves
Wood retail shelves can add a unique, finished look to your store as either the main display model or as accessory shelving to highlight particular areas throughout the merchandising area. You can find wood shelves either pre-made (or "off the shelf," as they say) or you can order them custom-made to fit your exact needs and specifications. This type of shelving is appropriate in pharmacies, clothing stores, jewelry shops or any other retail space where the desire is to create a warm, tasteful look that is appealing to the eye and yet strong and durable enough to handle just about any display job you come up with.
Oak and maple are popular choices for wood shelving, and a wide variety of finishes can be applied to create colors that work well with your store's color theme. Custom-milled wood shelving can be created to match your wood door and window frames, blinds and moldings. This can produce a noticeably warm environment and actually create an emotional response in customers that makes them feel good about being in your store and want to come back to recreate that warm feeling again!
What's Really Best, Wood or Metal?
There is no "best" when it comes to retail shelving, and the preferred shelving method in many retail environments is to use a judicious mixture of wood and metal. There's no question that beautiful wood and glass shelving units with built-in cabinets would be out of place in an automotive store selling heavy engine parts. On the other hand, the strong steel shelving that might be ideal in that automotive store wouldn't be recommended for use in a store selling natural food products or high-end jewelry.
A pharmacy trying to create a unique shopping environment that sets it apart from its big-box store competitors would do well to avoid the ubiquitous metal shelves used in most large drug stores. Instead of using the traditional drug store shelving with straight edges and sharp corners, look to something more aesthetically pleasing like concave radius shelving. The gondola shelving you use for the majority of your merchandise displays can be broken up with intermittent sections of wood and glass shelving used to highlight particular sections of your sales area.
For best results, it may well be worth the time and expense to consult on the perfect shelving setup with a professional retail store design firm. Use today's many shelving options to your advantage. Create a shopping environment that's amazing!