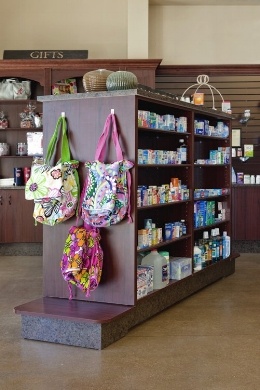 Regardless of whether you intend to start a new retail business or remodel the one you're currently running, getting the latest retail display solutions is vital if you want to boost your sales. Eight out of ten experts agree that most consumers are making their final purchase decisions at the point of purchase. To convince customers to buy your products, you need retail shelving solutions that allow you not only to display your merchandise on shelves in certain ways, but also to develop an efficient promotional strategy.
Retail Display Benefits
Recent studies conducted by media companies confirm that about 60% of total sales are attributed to retail displays. Thus, the main role of retail fixtures is to help business owners increase their sales. To help you understand the real importance of retail fixtures, the following points underline their top benefits.
Promote Your Products: Innovative retail display solutions allow you to develop and implement specific merchandising techniques, which not only make products available for sale, but also display them in a way that entices customers to make a purchase. Thus, retail fixtures deliver ingenious platforms, which are appropriate for launching and promoting any type of product.
Guide Customers and Secure Your Store: Intelligent merchandising fixture systems are able to guide customers through your store to high-margin products. Additionally, following a particular display positioning scheme can help you monitor customers to avoid specific incidents, such as theft.
Elevate Brands: Some retail display solutions come along with informative signs and banners, which communicate featured messages and get shoppers' attention. Evidently, these retail fixtures are great options if you're searching for a way to build brand awareness.
Increase Sales and Profits: You can increase your sales with an eye-catching retail display, which is able to convince customers to purchase your products instead of your competitor's. Recent studies show that customers are willing to pay up to 50% more for products if they are displayed on well-designed fixtures.
Provide Unique Customer Experiences: Highly creative retail display solutions can make your products appealing and provide your clients unique experiences. Your customers will be motivated not only to return to your store every time they need certain products, but also to popularize your business.
Create the Ambiance You Want: Another advantage of using retail displays is that they allow you to create a certain ambiance. That's because most retail fixture design companies are able to process different materials, such as wood, plastic and recycled content.
As you may already know, having state-of-the-art product displays is one of the easiest ways to cut competition. That's because getting some truly aesthetic retail fixtures can help you to attract customers, make shopping much more convenient for them and differentiate your business from other alternatives. For creative and useful merchandising fixtures, you should contact proficient and reliable fixture design professionals who believe in innovating fresh concepts that give rise to exclusive retail display solutions.
Want more idea? Download our FREE "inspiration book" for some cool looks for your space.