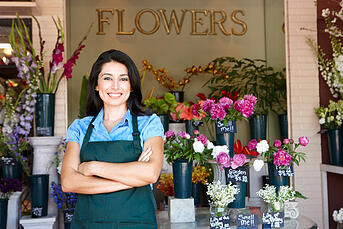 It's the ultimate quandary: You have a limited amount of retail space in which to sell your wares, so you need to use that space as efficiently as you can. You also need to ensure that you've got the volume of merchandise on hand necessary for top sales without making your space look cluttered and unkept, and your customers also need to be able to find what they're looking for easily. How can you maximize your space most efficiently for a clean, uncluttered look?
Make strategic use of retail fixtures like:
Wall units
Retail fixtures like wall units utilize what would normally be empty space by letting you "store" merchandise along the walls of your store. One creative way to do this is to hang shelving along the walls of the store's perimeter at different heights; this visually "breaks up" merchandise groupings so that customers can see and find them more easily, and gives the illusion of space.
Gondola and retail shelving
Retail fixtures like gondola and standard retail shelving can also maximize letting you display a lot of product in a small area without making it look cluttered. Gondola shelving used in the checkout lane, for example, can house small items that customers need but may not remember to buy until they're just about to leave; products like gum, batteries, candy, magazines, even over-the-counter cold medications and pain relievers are great choices for these areas.
Endcaps and table displays
Endcaps are retail fixtures that let you showcase and group sale items so that their very visually accessible to customers, but are out of the way so that they won't make your store appear cluttered. Place them at the ends of existing aisles. Place table displays in corners or near the entrance of your store; these are especially useful during seasonal times of year, such as for retail displays of Christmas items, or for pharmacy over-the-counter cold and flu medications during flu season.
Paint one wall an accent color
You can create the illusion of a larger space by painting or covering one wall with an accent color, with the other walls in the store a neutral color.
Create "windows" if your store is windowless
Placing a mirror on one wall next to retail shelving that holds shoes or apparel items, for example, not only helps customers because it gives them way to see how they look in something, but it opens up the space and makes it feel larger by creating a "window-like" effect. Tall, skinny mirrors draped with "curtains" of fabric and placed strategically throughout your store against exterior walls will provide a similar effect and benefit.
Use retail shelving to display clothing items spaced well apart
Merchandise can make any space look cluttered if the merchandise is simply piled together, so use retail shelving strategically throughout the store to group merchandise with plenty of space between "like" items. For small items like jewelry, use clean, stretched canvas on wall-hung frames to display items instead of wall units or large cases.
Make sure your space is well lit
Retail fixtures can help you organize your space and display merchandise attractively so that customers can find it easily and will be enticed to buy, but your space should also be well lit so that it's easy to see. Your display efforts are useless if customers can't see them. Use track lights, picture lights, and lamps; soft "full-spectrum" compact fluorescent or overhead lighting rather than standard lighting is more pleasing to the eye and non-glaring; it provides a better shopping experience and (literally) puts your merchandise in the best light.